Rich Horizon
Carioca pianist, producer and composer David Feldman (Rio de Janeiro, 1978) was born in an instrumentalist family. At the early age of four, he began his formal musical education, and in 2002, he graduated from the New School Jazz and Contemporary Music Program in New York. He also studied with Luiz Eça. He has performed with musicians such as Claudio Roditi, Duduka da Fonseca, Slide Hampton, Leila Pinheiro, Paulo Moura and Leo Gandelman among others. His first album, O Som do Beco das Garrafas, was released in 2009, and as the title implies, it was a repertoire dedicated to Bossa Nova and Jazz. In 2011, along with Duduka da Fonseca (drums) and Gutto Wirtti (bass), Duduka da Fonseca Trio Plays Toninho Horta was released. That album was followed in 2014 with Piano. Now his latest album is Horizonte. He returns to the trio format in a delightful release.
Horizonte was produced by David Feldman and features ten dazzling arrangements, with seven of his original compositions and three classics from the Brazilian songbook. The trio is comprised of David Feldman on piano, André Vasconcellos on acoustic bass and Marcio Bahia on drums. Two very special guests are featured in some tracks: Toninho Horta (nylon string guitar and vocals) and Raul de Souza (trombone). What a superb release this is! If you close your eyes and let your imagination fly, you'll feel right there at Beco das Garrafas among some of the great Bossa Nova names.
The album opener is a remarkable and creative arrangement of Oscar Castro-Neves and Luvercy Fiorini's Bossa Nova standard "Chora Tua Tristeza." This arrangement is commanding and captivating. The quiet piano solo is a tad faster than what one is used to hearing when this composition is performed. Slowly, drums and bass share the spotlight with a strong presence. The trio defines its mark and sound from the start. Other tracks in the album are just as gripping. The other two non-original tracks are Toninho Horta's "Soccer Ball" and Johnny Alf's "Céu e Mar." The former is a fast paced arrangement featuring both Toninho Horta and Raul de Souza. The rhythm is simply energized. The latter closes the album with spirited technique from these accomplished musicians.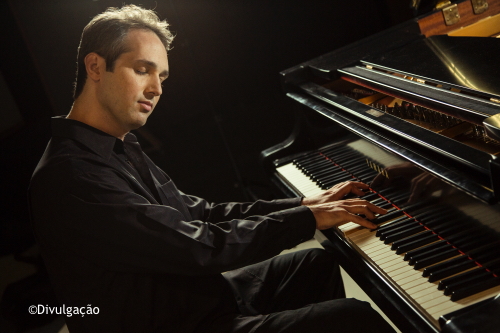 One particular feature of David Feldman's is his expertise in presenting the main melody with little twists and yet re-arranging it to carry on a very jazzy style. From the original repertoire, it is hard to pick one composition over another. David creates fascinating melodies and arrangements. At times, he is very serene and romantic ("Melancolia," "Adeus" and "Tetê," for example), and then the music shifts into bouncy sambas, jazz and bossas ("Sliding Ways" and "Esqueceram de Mim no Aeroporto," for instance).
Horizonte expands David Feldman's musical creations into a strong realm. The repertoire is powerful and performed with incredible expertise by these fine musicians. You don't have to take my word for it. The liner notes contain introductions by Ivan Lins, Carlinhos Brown and Rosa Passos. "A musical flight," "soulful good taste" and "great musical richness" are just a few words of praise you'll find in the liner notes.
You can learn more about the artist, his music and albums by going to David Feldman's web site. It is in Portuguese and English.
ALBUM INFORMATION
David Feldman 
Horizonte
Independent (2016)
Total time: 59'11"
Tracks (all music by David Feldman, except where noted):
Chora Tua Tristeza (Oscar Castro-Neves – Luvercy Fiorini)
Melancolia
Navegar
Tetê – w/ Tonhinho Horta
Sliding Ways – w/ Raul de Souza
Penumbra
Soccer Ball (Toninho Horta) – w/ Tonhinho Horta and Raul de Souza
Esqueceram de Mim no Aeroporto
Adeus
Céu e Mar (Johnny Alf)