A Warm Embrace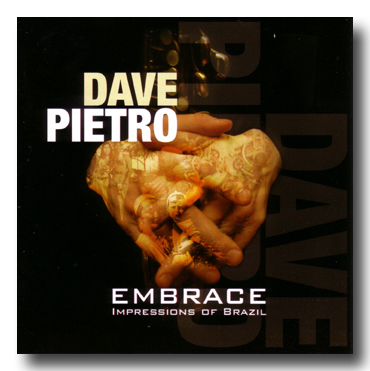 Brazilian music appears in unexpected places and seems to influence a wide array of musicians. Take, for example, talented saxophonist Dave Pietro (Selmer soprano, alto and C-melody saxophones). A native of Massachusetts and educated in Texas and New York, Pietro has performed with jazz giants such as Woody Herman, Lionel Hampton, Maynard Ferguson and Kenny Werner, among countless others, as well as Paul Anka, Ray Charles, Michael Feinstein, Liza Minelli and many other performers. After four critically acclaimed albums, Pietro thought it was time to push the envelope and delve into a new territory. Embrace: Impressions of Brazil is the result of Pietro's latest undertaking.
With a band line-up that can certainly please jazz fans and Brazilian music aficionados, Pietro's adventurous Embrace blends in several New York City musicians who have solid experience with Latin and Brazilian music. With 13 tracks — 8 penned by Pietro himself — the album provides a nice balance of jazz with Brazilian flavor. To add to the fine original repertoire, the other tracks featured here come from vocalist and percussionist
Valtinho Anastacio and from Brazil's great Edu Lobo, Vinícius de Moraes and Chico Buarque. Besides Brazilian musicians Helio Alves (piano), Sergio Brandão (electric Bass), two of Trio da Paz members — Nilson Matta (acoustic bass) and Duduka da Fonseca (drums) — Paulo Braga (drums) and Valtinho Anastacio (vocals, percussion), Pietro completed his gifted ensemble with Scott Wendholt (trumpet, flugelhorn), Tom Christensen (alto flute, clarinet, tenor sax), Pete McGuinness (trombone), Pete McCann (guitar), David Berkman (piano, fender rhodes) and David Finck (acoustic bass).
Embrace is original and fulfills Pietro's idea to stay true to his roots. As he says, he is "an American jazz musician" and does not want to simply have an album in which an American musician "masquerades as a Brazilian musician." That helps explain the repertoire choice of original Pietro's compositions for most the album. "Cururu," for example, merges Anastacio's lively Brazilian percussion (cuíca, pandeiro, surdo and tamborim) with hot brass solos featuring Pietro's alto and Christensen's tenor saxes along with McGuinness's trombone adding an extra layer to the uptempo beat. And Alves's effortless piano solo is awesome, too. When Pietro uses his C-melody saxophone in "Canto Triste" or "Choro Bandido," he hits home with a melancholy sound that is as close to saudade as an instrument can be. Embrace is bold and genuine whether in its original numbers or Brazilian classics.
To read more about Dave Pietro and this album, please visit his web site.
ALBUM INFORMATION
Dave Pietro
Embrace: Impressions of Brazil
A-Records AL 73242 (2004)
Time: 67'38"
Tracks:
All tracks by Dave Pietro, except where noted.
Never Nothing
Equanimity
Interlude # 1 (Valtinho Anastacio)
The Scene Between Two Unseens
Canto Triste (Edu Lobo – Vinícius de Moraes)
Cururu
Interlude # 2 (Valtinho Anastacio)
Remembrance
Interlude # 3 (Valtinho Anastacio)
And So It Is
Hamartia
Embrace
Choro Bandido (Edu Lobo – Chico Buarque)