Making Her Statement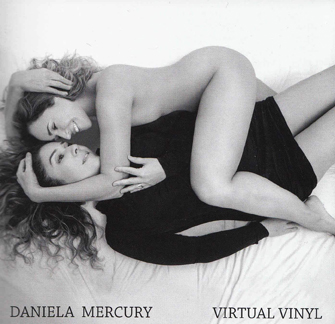 The story of Daniela Mercury (Salvador, Bahia, 1965) is a complex one. The easy part is that she fell in love with dancing at a very young age. Her wish to be a vocalist was triggered when she was only 13 years old, after hearing the late great singer Elis Regina (1945-1982). It's also quite common that she entered the world of singers through bars and pubs, performing the usual Brazilian bossa nova standards. However, most crucial for Daniela's upcoming career were the so called "trio elétricos," the impressive mobile stages that are used in Salvador's carnival parades. The combination of singing and dancing has always been Daniela's trademark ever since she participated in 1981 for the first time in the carnival parade Salvador de Bahia. As performer of the danceable axé music she soon conquered the rest of Brazil and all corners of the world.
On Vinil Virtual Daniela Mercury mixes various styles to tell her story. A story that she expresses in the picture on the cover of the album. It's a reference to the Peace, Love and Freedom manifesto by John Lennon and Yoko Ono in the early 1970s. The picture itself is analogous to the one of John and Yoko on the cover of Rolling Stone magazine in 1981. "This is it, this is our relationship" is what Lennon said about that photo. On her picture, Daniela sublimates the relationship with her wife, journalist Malu Verçosa, whom she married in October, 2013. Daniela wrote "Maria Casaria" especially for her, using the danceable Cabo Verdean funaná rhythm. The song is preceded by the album's opener "A Rainha do Axé (Rainha Má)" on which Daniela turns from the queen of Axé into the bad queen (rainha má). It's her social criticism about the lack of self-respect the Brazilians show for their own culture. The inclusion of a verse from the Caetano Veloso/ Gilberto Gil song "Bat Macumba" shows Daniela's combative mood on this album.
Daniela Mercury especially wants us to look at humanity with love and respect. Her love and respect for fellow Bahian Gilberto Gil (Salvador de Bahia, 1942) is featured in "De Deus, de Alah, de Gilberto Gil." It can't be any clearer than that. On acoustic guitar and vocals, Gil is the honored guest musician on this track. On "Alegria e Lamento" Daniela pays tribute to the late samba-reggae founder and percussionist Neguinho do Samba (1954 (or1955) – 2009). Samples of his percussion accompany the music. Also guest on this and a couple of other tracks is Márcio Victor, singer/ percussionist from the popular samba-pop group Banda Psirico from Salvador de Bahia. Daniela Mercury can also count on the support of guitar icon Armandinho Macêdo (1953), the master on the mandolin and the Bahian guitar. We hear him play each instrument on two tracks.
Daniela is surrounded by some loyal instrumentalists who go back in history with her for a long time. In the rhythm section we find the perfect Cesário Leony on bass who is in Daniela's band for two decades already. Just like guitarists Alexandre Vargas and Gerson Silva. Also present in Daniela's band are two of her children from her marriage (1985-1996) with Zalther Póvoas. Son and songwriter/instrumentalist Gabriel Póvoas is on keyboards, guitars, acoustic bass and vocals. Daughter Giovana does some backing vocals but is mostly dancer when Daniela is on stage. Multi-instrumentalist Yacoce Simões is a newcomer in Daniela's discography. By also doing most of the arrangements, he's omnipresent in the sound of this album.
Daniela sings with a strong, convincing voice. She's self-confident as always and even ventures into singing lyrics in English ("Frogs in the Sky"). For ten of the fifteen tracks she wrote both music and lyrics, giving her the ultimate freedom to create her art.
She gives the music a strong message. It's the way we expect it from the energetic singer/ dancer/ composer, even after changing from the Queen of Axé into the Bad Queen…
Daniela Mercury will always be Daniela Mercury, the crowd pleasing superstar with an interest in the cultures of her country and a desire to make the world a better place.
Vinil Virtual sounds like the album she always wanted to make.
ALBUM INFORMATION
Daniela Mercury
Vinil Virtual
Biscoito Fino BF4092 (2015)
In the USA: Virtual Vinyl
DRG Brazil Records DRG-CD-31641 (2016)
Time: 1°07'54"
Tracks (all compositions by Daniela Mercury, except where noted):
A Rainha do Axé (Rainha Má)
Maria Casaria
América do Amor
Alegria e Lamento
Tô Samba da Vida
Sem Argumento
Frogs In The Sky (Daniela Mercury – Gabriel Póvoas)
De Deus, De Alah, De Gilberto Gil – w/ Gilberto Gil
Extranhos Terrestres (Aperto de Mente)
Antropofágicos São Paulistanos (Daniela Mercury – Yacoce Simões)
O Riso de Deus
Vinil Virtual (Aperto de Mente 2)
Três Vozes (Daniela Mercury – Marcelo Quintanilha)
Minha Mãe, Minha Pátria (Daniela Mercury – Marcelo Quintanilha)
Senhora do Terreiro (Mãe Carmem) (Daniela Mercury – Gabriel Póvoas)