The Two Worlds of Cris Delanno
Born as a Brazilian in Texas, USA, Cris Delanno (1969) and her family moved back to Brazil when she was three years old. Two years later the little girl started to sing in Rio de Janeiro's Coral Infantil do Teatro Municipal (Children's Choir of the Municipal Theatre). This event marked the start of a life that is dedicated to singing. Various studies gained Cristiane de Britto Campbell (her full name) an all-round knowledge of music. Vocal technique, improvisation, piano, flute, ballet, theatre, music theory — it all forms a link in the formation of an exceptional singer. Opera projects (e.g., Carmen, La Boheme) helped to refine her vocal technique after which various gigs put Cris on the road to success. Her recording debut can be found on the album Ditos e Feitos (1992) from Roberto Menescal, where she has a guest appearance. Between 1993 and 1995 Cris went back to the USA, accepting an invitation as soloist for the African American Unity gospel choir. It was just a matter of time before the first solo album would be released. That happened in 1995 with Cris em Tom Maior, which was dedicated to the music of Antônio Carlos Jobim. In 1999 she shared her knowledge about the basic vocal techniques in her book Mais Que Nunca É Preciso Cantar, illustrated by interviews with singers like Leila Pinheiro, Altay Veloso, Gilberto Gil and others. Looking for new challenges, Cris joined the lounge band Bossacucanova as guest vocalist, a role she still fulfills.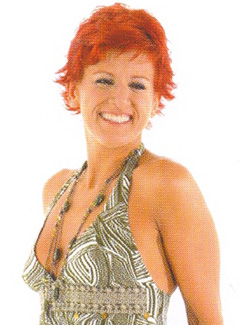 This new solo album is produced by Bossacucanova's keyboardist Alexandre Moreira. Although the group's influence is clearly noticeable, the cd covers a good variety of music. Cris shows her refined technique in a repertoire that ranges from old to new compositions and from Brazil to the USA; mostly recorded live in the studio. Of course this album couldn't do without the participation of Bossa Nova icon, guitarist and composer Roberto Menescal (1937), who's also a regular guest with his son Marcio's band Bossacucanova. His presence is prominent on various tracks, like the album's opener "Canoeiro," which he arranged beautifully in function of the jazzy accompaniment and the beautiful voice of Cris. The jazzy combo we hear on most tracks of this cd, is formed by the Fender Rhodes piano (Fernando Merlino), the electric bass (by Jacaré), Marcio Bahia on the drums and percussionist Sidinho. After this classic Dorival Caymmi composition Cris takes us to her second home country, the USA, with a rendition of "Just the Two of Us." This American hit song from 1980 (to be found on saxophonist Grover Washington Jr's album Winelight) is transformed by Menescal into a pleasant bossa. On "Receita de Samba" and "O Brasil Precisa Balançar" flutist/saxophonist Léo Gandelman adds his talent, which leads to a change in sentiment, a bit more spicy. The band switches to acoustic instruments on "Previsão" (only bassist Jacaré is replaced by Alberto Continentino on the acoustic bass). Cris sounds perfect again, as does the band. "Gaiolas Abertas" stays very close to its composer João Donato's intentions and also is one of the albums better moments. On "Consolação," Cris invites Bossacucanova, awarding us a look into her other career. Another song from the American Songbook is "We've Only Just Begun," which gently leads us to the end of the cd. Cris Delanno almost whispers the song, with the beautiful bass lines from Alberto Continentino's acoustic instrument and the breathtaking delicacy of Sidinho's percussion. It might well be the album's most beautiful moment. There's one more song left on the cd, "O Ronco da Cuíca." Sometimes I have the impression that compositions by João Bosco can only be sung by the composer himself. For me, his echo is always present and that disturbs this rendition by Cris Delanno a bit. Despite having worked with the co-composer of this song, Aldir Blanc, it's like her voice is not comfortable with this composition. That is no shame at all, since there are more than enough wonderful moments to make this a very good album. The best I've heard so far from this vocalist to the backbone.
ALBUM INFORMATION
Cris Delanno
Cris Delanno 
LAB344 Rio Grande Inc. 22062-2 (2006)
Time: 43'01"
Tracks:
Canoeiro (Pescaria) (Dorival Caymmi)
Just the Two of Us (Ralph MacDonald – William Salter – Bill Withers)
Bem Longe (Marcos Valle – Gabriel O Pensador)
Me Liga (Herbert Vianna)
Consolação (Baden Powell – Vinícius de Moraes)
Crazy Little Thing Called Love (Freddie Mercury)
Previsão (Bossacucanova- Adriana Calcanhotto)
Gaiolas Abertas (João Donato – Martinho da Vila)
Receita de Samba (Joyce – Paulo César Pinheiro)
O Brasil Precisa Balançar (Roberto Menescal – Paulo César Pinheiro)
We've Only Just Begun (Paul Williams – Roger Nichols)
O Ronco da Cuíca (João Bosco – Aldir Blanc)