The Fable of Cris Braun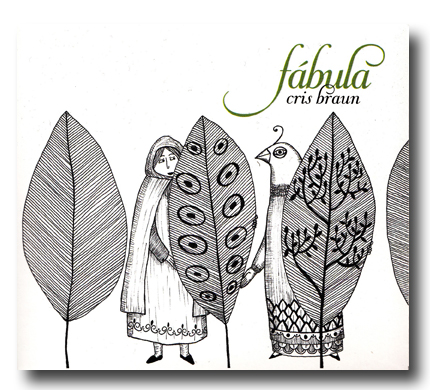 Cris Braun is one of those artists who has "music" written all over her. As a teenager the native from Estrela, Rio Grande do Sul (1962) picked up singing and guitar lessons, while she also learned how to play percussion and keyboards. Cris lived in, respectively, Porto Alegre (state capital of Rio Grande do Sul in the south of Brazil) and Maceió (capital of the northeastern state of Alagoas), before she moved to Rio. In recent times she tends to divide her time between Maceió and Rio de Janeiro. In both cities she shows her general interest in music by participating on various radio shows, like "Intervalo" on Rádio Educativa FM in Maceió, and "Ao Vivo Entre Amigos" on Rádio MEC in Rio. As a composer and singer Cris had her breakthrough in the pop band the Sex Beatles (1990) that also had Alvin L. among the band members. She recorded two albums with the band (Automobília in 1994 and Mondo Passionale in 1995). As a composer Cris joined forces with many star composers of the Brazilian pop scene. One of her most successful songs is "Como É Que Eu Vou Embora?" which she wrote with Paula Toller and George Israel. The song was a top 10 hit for Kid Abelha. Singer Belô Velloso is another artist who loves to sing the work of Cris'.
So how about her solo career ? This is the third album that carries the name of Cris Braun. Cuidado Com Pessoas Como Eu was the debut album in 1997, followed not sooner than in 2004 by Atemporal. These two albums show that Cris Braun does what she wants; no one tells her what to do. Fábula shows that same character trait, although in a beautiful matured way. The album is a joy to listen to. Lots of variation but somehow everything connects together in a wonderful way. The album opens with two pleasant pop songs by singer/composer Wado (or Oswaldo Schlickmann Filho from Florianópolis, 1977). "Ossos" and "Cidade Grande" form a nice intro for a sublime rendition of "Tanto Faz para o Amor." We already know the song as one of the highlights on Katia B's album Só Deixo Meu Coração Na Mão De Quem Pode. Here the song has a surprising nice arrangement with a tango rhythm, diverted by a lap steel guitar (Billy Brandão) and Spanish sounding percussion (Lanlan). The ballad "Deve Ser Assim" by the composer duo Marina Lima/Alvin L. is dominated by the lazy arrangement with cello and nice guitar work by Gustavo Corsi (listen to the "reverse guitar" solo). "Tão Feliz" is another great ballad with a jazzy undertone in the accompaniment (featuring the trademark of originality aka Sacha Amback on keys, Billy Brandão on guitar, Bruno Migliari on bass and Lourenço Monteiro behind the drums). The mood changes with the instrumental force of "Artérias," on which Cris Braun plays guitars, guitar synthesizer and bass. It leads to the eccentric "A Viga," another highlight. The song plays with musical sentiments, changing colors against a dark background; friendly, furious and playful. "Oscilante" brings a funky touch; the song would well fit into Fernanda Abreu's repertoire as well. "E o Amor Calou" has a lyrical wink to "Carinhoso" (Pixinguinha/João de Barro). At moments the song sounds like a weird arrangement of the classic. "Terra do Nunca Mais" is a short instrumental lullaby that opens for the most beautiful song of the album: "Memória da Flor." A kind continuous rippling rhythm with an even kinder lap steel guitar accompany the voices of Cris Braun and guest Celso Fonseca. What better way than this to end a wonderful album.
With Fábula Cris Braun should be able to reach an international audience. The music is pure fun and entertains its listener from track one till the closing cries from the lap steel guitar. Hope it doesn't take another eight years before we hear again from Cris Braun!
You can visit the composer, singer and instrumentalist at her website.
ALBUM INFORMATION
Cris Braun
Fábula
Tratore CB2011 (2012)
Time: 38'14"
Tracks:
Ossos (Wado)
Cidade Grande (Wado)
Tanto Faz para o Amor (Lucas Santtana – Quito Ribeiro)
Deve Ser Assim (Alvin L. – Marina Lima)
Tão Feliz (Cris Braun – Billy Brandão)
Artérias (Cris Braun)
Viga (Fernando Fiuza – Cris Braun)
Oscilante (Fernando Fiuza)
E o Amor Calou (Cris Braun)
Terra do Nunca Mais (Cris Braun)
Memória da Flor (Jr. Almeida – Zé Paulo)