Dreaming Improvisations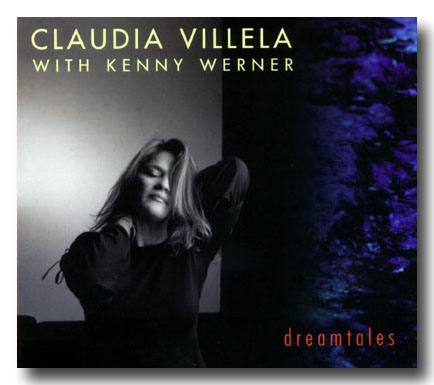 Two remarkable musicians meet and go into the studio with no set repertoire. This is the story of Dreamtales, Claudia Villela's latest and bold project with jazz pianist Kenny Werner.The spontaneous creations born out of the minds of Villela and Werner are astounding to say the least. This is no easy album to be made, especially since it is all improvised. What you hear is what happened in the studio at the time it happened. That is no easy feat, and only capable artists attempt and succeed at doing such things.
Claudia Villela, born in Rio de Janeiro (1961), has been living in California since 1984. She is gifted with an awesome five-octave range that enables her to make music like not many singers in the business. Sometimes her music is light and delicate. However, the gentleness hiding behind that voice can also be thunderously strong. The combination of Villela's versatile voice with Werner's artful piano paints a soulful landscape of emotions. Villela's music creates life from within her soul.
The title track, "Dream Tales," opens the album with its almost 13 minutes of fluid improvisation. Werner's notes are initially sparse. At times, Villela's voice seems to be simple extensions of the notes being played. That is amazing, especially when one considers the improvisational aspect of the recording. Simply out of what appears to be nowhere, Villela then switches to spontaneous verses:
Ah she said no mundo um silêncio mais do que todo burburinho do planeta além de todas as conversas da ribeira na água da fonte na areia branca e os passarinhos cantam cantam e o tempo vai carregando o seu manto longo e ela se vê na reflexão e ela se move ao vento e ele bate o tambor do coração bate esse mundo afora vai levar o seu violão Ah she said in the world a silence more than all of the planet's clamor not to mention all the talk by the riverbank in the water by the spring in the white sand and the birds sing sing and time goes by carrying its shawl so long and she sees herself in the reflection and she moves with the wind and he beats the drum of the heart beat this world abroad gonna bring his guitar along
This drum of the heart in Villela's words is clearly present in all tracks of the album whether she is really using words or not. In "Room 13," for example, she sings of many voices and where one will always be. Just like the words she sings, her voice calmly strolls "behind, below, beside, the other side, above you" and everywhere. In "Deep Sea Angel Blues," the warmth of ocean waves is replaced by Werner's mellisonant solo. This most touching love song brings a return to paradise. The ocean and all its life and the eternal garden sung by Villela culminate in the depth where two people meet. Four tracks in this album do not contain any lyrics. They allow Villela more room to experiment just with sounds and her innate creativity. A magnificent moment in Dreamtales is found with "Tom's Waters." This freely crafted masterpiece is a beautiful paraphrase of Antônio Carlos Jobim's "Waters of March." Touch of genius to both Villela and Werner!
Dreamtales is not the kind of album you play and forget about it. You will find yourself trying to get deeper into the music created by these two artists. Werner is incredible, but the glory in Dreamtales is all Villela's. She innovates and goes beyond what mere mortals can do. Dreamtales is a rare breath of freshness and outstanding musicianship.
You can hear track samples of Dreamtales here. Also be sure to visit Claudia Villela and Kenny Werner's web sites.
ALBUM INFORMATION
Claudia Villela with Kenny Werner
Dreamtales
Adventure Music AM1008 2 (2004)
Time: 64'43"
Tracks:
All songs by Claudia Villela & Kenny Werner.
Dream Tales
Through the Gates
Room 13
Deep Sea Angel Blues
Cappuccino
Tom's Waters
All One
The Girl from Ponta Negra