The Voice of the Lap Steel Guitar
Christiaan Oyens is a world-citizen in all aspects. He was born with Dutch and a little Russian blood in Uruguay's capital Montevideo (1964). When he was only a few months old, the family moved to the Argentinean capital Buenos Aires. Next, at age nine, Rio de Janeiro became Christiaan's new place to live; while ten years later he moved to Los Angeles to return to Brazil another five years after that. Along that intercontinental way, Christiaan Oyens developed his remarkable musical talent.
It all began with young Christiaan's fascination for the drums of the music that was performed on the boat that took the family to Brazil in 1973. Soon his first drum kit was a fact, leading to his first gig at age 15 with a few friends in a Rio hamburger store. It was fun, so Christiaan soon took up some serious studying, while as a diversion, he also picked up the guitar. His move to Los Angeles was born out of the desire to become a jazz drummer. Murray Spivack (1903-1994) surprised Christiaan with his enlightening percussion ideas, and no one else than Moacir Santos (1926-2006) taught Christiaan about music theory. There were gigs with Airto Moreira and Flora Purim (among others) to practice the new learned skills. However, a big change in plans took place when an unsuspecting Christiaan visited a performance of David Lindley. His music touched a sensitive (Hawaiian) string. Christiaan immediately fell in love with, most of all, the sound of the Hawaiian lap steel guitar. In this instrument Christiaan discovered the perfect medium to express his musical thoughts. The instrument was studied inside out, both in techniques as in theory and historical research. It was no wonder he ended up with the legendary Weissenborn guitars.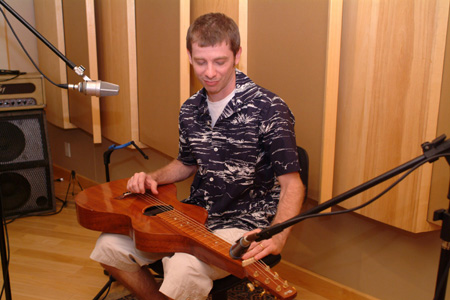 Meanwhile Christiaan was influenced by listening to blues artists like Robert Johnson, John Hurt, Blind Willie Johnson and Ben Harper and guitar virtuosos like Leo Kottke. Back in Brazil, he worked with musicians of all feathers (Cazuza, Marina Lima, Adriana Maciel, Marcela Biasi, trumpeter Márcio Montarroyos, the legendary bassist Nico Assumpção, pop star Lulu Santos, to name just a few). This whole picture made him an all style musician. The break-through, however, came in the early 90ies when he met a singer from Niterói, Zélia Duncan. With the release of well received albums, their musical partnership proved to be very fruitful. For the mix of Zélia's cd Acesso, Christiaan took another trip to Los Angeles where he worked with Ben Harper's sound engineer Eric Sarafin. Again he realized his passion for the Weissenborn lap steel guitar and the blues from Ben Harper. This turned out to be the stimulation to do a solo album. And here it is!
The music on this album is absolutely beautiful. It must be very difficult not to enjoy listening to Adeus Paraíso. The compositions, the delicacy of the minimal instrumentation, the warmth of the compositions: it almost sounds like a love declaration to the Weissenborn lap steel guitar. The instrument is played with such a respect that I have the suspicion that Christiaan's first aim is to let us enjoy the beauty of his favorite instrument. And since this definitely is two-way love, the instrument proves to be the perfect "voice" for Christiaan, too. The Weissenborn is given the solo spot, accompanied by regular six- or twelve-string acoustic guitars. The music was recorded with a minimal use of takes. The result is a spontaneous mix of styles in which the Brazilian influence stays clearly present, mostly in the harmonies and rhythms played by the accompanying acoustic guitar. It's the lap steel guitar that explores the different fields of all the musical influences Christiaan absorbed during his life. The cd's title, Goodbye Paradise, refers (with a wink to Hawaii) to the weariness of perfection. However, the perfection of the music on this album never bores. There's plenty of variation. For instance, during the opening notes of the bluesy "Negrume," you expect a raw dark voiced blues singer to join in. Next on a surprising rendition of the classic "Make Me a Pallet…," the two guitars are in perfect harmony with each other. The Hawaiian touch the title song "Adeus Paraíso"  is given sounds pleasant and relaxing. "Céu Claro, Nuvem Negra" is a blues duet by the two guitars, on which the acoustic guitar is given the solo spot, too, modestly accompanied by the lap steel. "Novas Possibilidades Lindas" is inspired by and dedicated to Brazil's icon of improvised music, Hermeto Pascoal. Another icon of Brazilian music is Milton Nascimento. He joins Christiaan in a tribute to his work of the early 70ies. It's the only track on the cd that features vocals and other instruments (harmonium, tablas and acoustic bass). Milton Nascimento sounds fantastic as in his best days.
These are just a few short words about some of the 14 tracks on this cd. Each track is a highlight on its own. A great piece of work for unpretentious listening pleasure and an even greater piece of work for in-depth listening! The cd has an extra multi media bonus track.
On the very informative bilingual (Portuguese/English) web site of Christiaan Oyens, track-by-track comments are given, and also the possibility to buy the cd is provided.
ALBUM INFORMATION
Christiaan Oyens
Adeus Paraíso
Audiosfera AUD 06001 (2006)
Time: 42'05"
Tracks:
All compositions by Christiaan Oyens, except where noted.
Negrume
Make Me a Pallet on Your Floor (Traditional)
Saturnino
Adeus Paraíso
Acordando Tarde
Céu Claro, Nuvem Negra
Mississipi no Sertão
Gospel Truth
Ninutchka
Susumi
Tintim
Novas Possibilidades Lindas
Trem do Horizonte – w/ Milton Nascimento
Guel Continua a Sonhar