A Different Artist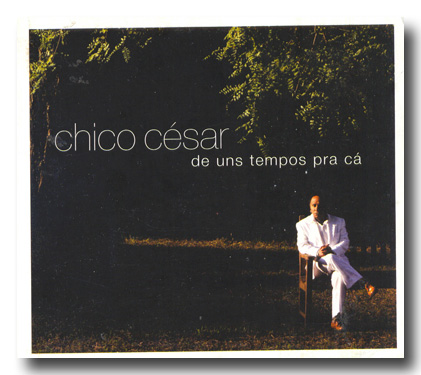 On this cd we hear a completely different Chico César. Accompanied by a string quintet (Quinteto da Paraíba), Chico brings songs that were composed earlier in his career, with a basis in his northeastern roots. The choice to perform the music as chamber music makes it all sound a bit melancholic. The string quintet is supported by various other instrumentalists like Toninho Ferragutti (accordion), Simone Julian (flute) or Nailor Proveta (clarinet). Chico sings most of the compositions with a very mellow soft voice. The song that attracts the most attention because of its weird title is "Por Causa de um Ingresso do Festival Matou Roqueira de 15 Anos." This title ("Because of an Entrance Ticket a 15-Year-Old Rock Fan Was Murdered") was taken from a newspaper headline in 1983, when the first Rock in Rio Festival took place. The song can also be found on the album Chico recorded earlier with guitarist Zezo Ribeiro, Brincadeira. On this version we hear Elba Ramalho as guest. Other eye catchers are the historical Gilberto Gil/ Chico Buarque composition "Cálice" and an amazing version of the jazz standard "Autumn Leaves."
It's a bit of a weird cd, confirming the many musical faces of Chico César: Pop, Rock, African music (last summer he toured with African pianist Ray Lema). The fans of Chico César are certainly capable of handling yet another change in musical direction. This is a very good and beautiful piece of music.
ALBUM INFORMATION
Chico César 
De Uns Tempos Pra Cá
Biscoito Fino bf-619 (2005)
Total time: 49'07"
Tracks:
All tracks by Chico César, except where noted.
Pra Cinema
Moer Cana
1 Valsa p/ 3 (Chico Pinheiro – Chico César)
Utopia
Cálice (Gilberto Gil – Chico Buarque)
Alcaçuz
De uns Tempos pra cá
Porque Você não Vem Morar Comigo
Outono Aqui (Autumn Leaves) (Kosma – Prevert – Mercer)
A Nível de (João Bosco – Aldir Blanc)
Por Causa de um Ingresso de um Festival Matou Roqueira de 15 anos – w/ Elba Ramalho
Orangotanga