Concert Review
Celso Fonseca (1956, Rio de Janeiro) definitely is among the most demanded guitarists in Brazilian music. He has worked with numerous of Brazil's stars, like Gal Costa, Simone, Milton Nascimento, Djavan, Caetano Veloso, Rita Lee, Marisa Monte, Ney Matogrosso and Chico Buarque. In the past decade, Celso also has had his focus on a solo career as a vocalist, guitarist and composer. His trilogy of bossa nova inspired albums is an example of his well documented craftsmanship. (Juventude / Slow Motion Bossa Nova in 2001, Natural in 2003 and Rive Gauche Rio in 2005).
Since Celso Fonseca makes records for the Belgian label Crammed, he frequently visits the Lowlands (Holland and Belgium). This time Celso and his band also performed at the somewhat pompous concert hall of the old Flagey theatre complex in Brussels, Belgium.
The warm voice and the acoustic guitar of Celso Fonseca were accurately accompanied by three laurelled musicians. On keyboards was Jorjão Barreto, who, besides having worked with many of the big names in MPB, also was a band member from respectively Banda Black Rio, Batacotô and recently the Gospel band Rota 33. His inspired presence proved to match very well with musical ideas of Celso Fonseca. With his playful piano style, he made the music sound a bit more frivolous and jazzy.
Jorjão was skillfully supported by bassist Guto Wirtti.  Guto is from Frederico Westfalen, a city in Brazil's southern state of Rio Grande do Sul. He studied Afro-Brazilian music, which clearly enriched his bass style. Currently he plays in the band of acoustic guitar wizard Yamandú Costa.
Also from the south of Brazil, Pelotas (Rio Grande do Sul), comes drummer Alex Fonseca. He has worked in various musical styles with Pepeu Gomes (rock), Vitor Ramil (milonga), Fausto Fawcet (alternative) and Leo Gandelman (mainstream jazz) among others.
The music for this evening was mainly chosen from Celso's two most recent releases for Crammed. The fellow musicians generously got a chance to shine, mostly during the few instrumentals. Vinícius de Moraes and Baden Powells' "Consolação" featured an inspired piano solo, followed by an even inspired bass solo, while drummer Alexander Fonseca indulged his passion during the song's final bars. The character of the concert gained an international touch by a few songs in English, while a few solo performances added to the variety during the concert.  It all resulted in a wonderful evening of beautiful performed bossa inspired music by a musician who deserves much more attention!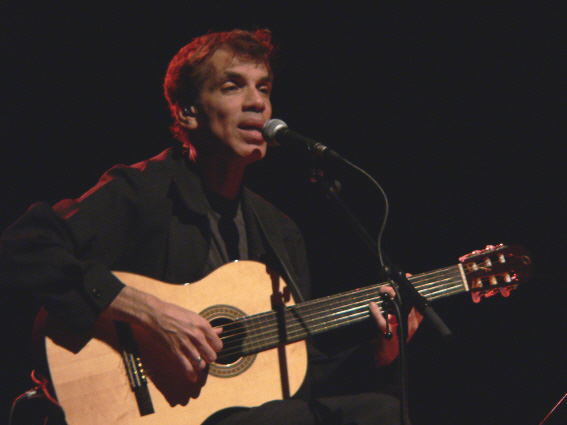 CONCERT INFORMATION
Celso Fonseca
Concert Review
Flagey; Brussels, Belgium
November 24, 2006