Coming from the Heart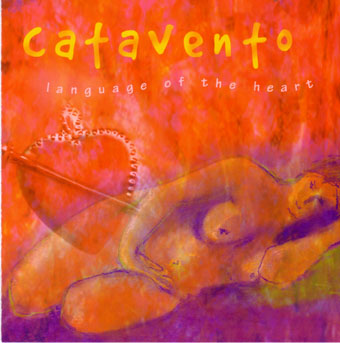 Susanna Sharpe has delighted Austin (Texas) audiences for a few years now. Formerly associated with the Samba Police (together they released an album, A Música das Almas, 1993), she is a constant presence in the busy music scene of Austin. Though she keeps her calendar full by performing at various venues throughout the city, she managed to put together Catavento and release this delicious Language of the Heart. As with previous Sharpe's releases and performances, Catavento draws strongly from the Brazilian songbook and also adds some other Latin American songs as well as original compositions by group members. The result is a catchy release with beautiful music, touching performances and excellent vocals by Catavento.
Catavento is Susanna Sharpe (vocals, percussion), Christian Fernandez (vocals, guitars, percussion), Sérgio Santos (percussion) and David Pulkingham (guitars, vocals). To say that Sharpe and Fernandez vocals are sublime is clearly an understatement. Their voices complement each other in tonal quality and diversity. Together they move from sensuous Portuguese through charismatic Spanish and even a touch of romantic French. Of course it helps that Fernandez was born in Marseilles, France. The group is very careful in its arrangements, particularly in maintaining the appeal that Brazilian music brings to foreign audiences. The meticulous voice arrangements are noteworthy. The opening track, "É Preciso Perdoar," starts with a beautiful vocal harmonization that simply takes your breath away. Pulkingham's solo guitar is like raindrops in a cool tropical night. The track grabs your attention and makes you sway along with the soft rhythm and Santos' cadenced percussion.
"La Bamba" also gives Catavento another chance to showcase their vocal skills, but it is with "Na Baixa do Sapateiro" that you will be totally blown away with the most remarkable introduction I've heard for that tune. The tight harmonies created by Sharpe, Fernandez and Pulkingham lead into Sharpe's crystalline solo. Sharpe is always surprising in her phrasing. In "Eu Te Amo," for example, she is beautifully breathy, whereas in "José Antonio" she's fiery. Undoubtedly, Catavento reaches memorable moments when Sharpe and Fernandez playfully exchange lines in several songs. "Izaura" is one such instance. It is, however, in "Joana Francesa" that once again listeners are transported to a magical world through Buarque's clever Portuguese and French lyrics interpreted with rare beauty here. And to prove how well Catavento performs in other languages, "Rumbera Mayor" is all you will need. Track after track Catavento artistically impresses listeners with simple, acoustic arrangements and beautiful vocal solos and harmonies.
You can read more about Language of the Heart and hear sound samples here.
ALBUM INFORMATION
Catavento
Language of the Heart
Catavento Music CM0001 (2004)
Time: 45'47"
Tracks:
É Preciso Perdoar (Carlos Coqueijo – Alcyvando Luz)
La Bamba (Mílton Nascimento)
Na Baixa do Sapateiro (Ary Barroso)
Satellite (David Pulkingham)
Eu Te Amo (Chico Buarque – Antônio Carlos Jobim)
Vento (Christian Fernandez – Madalena Pires)
Joana Francesa (Chico Buarque)
Rumbera Mayor (Melcochita)
José Antonio (Chabuca Granda)
Izaura (Herivelto Martins – Roberto Roberti)
Eterno Choro Passageiro (Christian Fernandez – Madalena Pires)
Ville Franche (David Pulkingham)