Let the Party Begin!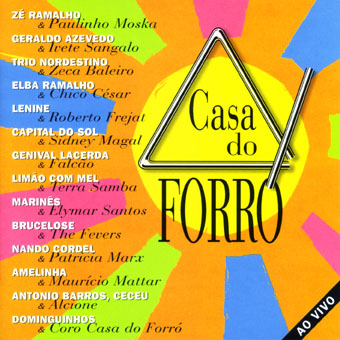 With a country as vast as Brazil, it is no wonder that some musical genres do not get as much air play as others. Take, for example, samba and bossa nova. Just about everyone in all corners of the world has experienced those infectious rhythms. Who has never heard the hits "Brazil" and "The Girl from Ipanema"? As Brazil continues to innovate its own music, more people are going back to their own roots to capture a new sensation. Though it has always been extremely popular in the northeast of Brazil, forró has generally been considered a regional style. Forró is an all-encompassing term to express the richness of rhythms such as xaxado and baião. When Brazil started to look up north for "new" rhythms, it was just a matter of time for Oxente music to become the hottest music sensation everywhere. The term "oxente" itself derives from a popular expression widely used by folks in the northeast of Brazil.
PolyGram seems to have discovered a nice formula consisting of live concerts in its own gardens. Interestingly enough, the formula has worked out well for samba and bossa nova with the releases of Casa de Samba, Casa de Samba 2, Casa de Samba 3, Casa de Samba 4 and Casa da Bossa. The formula is very simple: major Brazilian artists record duets of Brazilian classic tunes in each style, e.g., samba and bossa nova. Sometimes the duos are unique. With Casa do Forró, there is no difference in the format used. Production was handed to Robertinho de Recife, who is an expert in producing Brazilian northeastern releases. Furthermore, some key musicians are used to maintain the same instrumentation throughout the CD. In this case, since it was forró, the key players had to be accordionists. Speaking of accordionists, Waldoniz, Marcos Farias and Dominguinhos are essential to any quality release.
Casa do Forró brings some outstanding duets. If you have never heard forró, this is a fantastic introduction. From the opening number, "Pedras Que Cantam," with Zé Ramalho and Paulinho Moska, the listener is treated to a lively beat that will continue even when ballads such as "De Volta Pro Aconchego" (with Geraldo Azevedo and Ivete Sangalo) are performed. Slow or fast, forró is pure dance music. Even with unlike duets such as Brucelose and The Fevers (with "Frevo Mulher") or Capital do Sol and Sydney Magal (with "Lembrança de um Beijo"), the end result is never below satisfactory. Add to that Elba Ramalho with Chico César singing the beautiful toada "Espere por Mim Morena" and Marinês and Elymar Santos in "Bate Coração," and it is always a winning combination.
What makes Casa do Forró such a major hit is the music and its contagious rhythm. The audience seems to be constantly dancing — you'd be, too, if you were there. Song after song, performer after performer, Casa do Forró is dynamite music. It is the life of any party.
ALBUM INFORMATION
Various
Casa do Forró
Mercury PolyGram 538.077-2 (1998)
Time: 46'08"
Tracks:
Pedras Que Cantam (Dominguinhos – Fausto Nilo) – Zé Ramalho & Paulinho Moska
De Volta Pro Aconchego (Dominguinhos – Nando Cordel) – Geraldo Azevedo & Ivete Sangalo
Isso Aqui Tá Bom Demais (Nando Cordel – Dominguinhos) – Trio Nordestino & Zeca Baleiro
Espere por Mim, Morena (Gonzaguinha) – Elba Ramalho & Chico César
Pagode Russo (Luiz Gonzaga – João Silva) Lenine & Roberto Frejat
Os Dez Mandamentos (Dada Di Moreno – Jeová de Carvalho) – Amelinha & Maurício Mattar
Sabiá (Luiz Gonzaga – Zé Dantas) – Nando Cordel & Patricia Marx
Forró do Xenhenhém (Cecéu) – Antonio Barros, Cecéu & Alcione
Forró Cheiroso (Miraldo Aragão – Clemilda) – Genival Lacerda & Falcão
Lembrança de um Beijo (Acioly Neto) – Capital do Sol & Sidney Magal
Derramaro o Gai (Luiz Gonzaga) – Limão com Mel & Terra Samba
Bate Coração (Cecéu) – Marinês & Elymar Santos
Frevo Mulher (Zé Ramalho) – Brucelose & The Fevers
A Vida do Viajante (Luiz Gonzaga – Hervê Cordovil) – Dominguinhos & Coro Casa do Forró
A modified version of this review first appeared in Luna Kafé, June 1999.