Samba Doesn't Get Any Better Than This!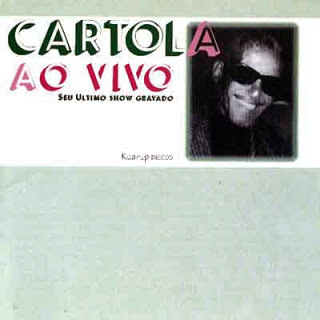 What João Gilberto is to Bossa Nova, Cartola is to samba. Angenor de Oliveira (October 11, 1908 – November 30, 1980, Rio de Janeiro) was one of the founding fathers of the world famous Escola de Samba Estação Primeira de Mangueira. Although he had been composing since the 1920s and had been recorded by some of the great interpreters in Brazilian music, it was only at age 65 (in 1974) that Cartola recorded his first album. That was followed in 1976 by a second album in which the song "O Mundo É um Moinho" featured a young 20-year-old acoustic guitarist named Guinga.
With only an elementary education, Cartola held a variety of jobs in his life. He was a typographer and also a brick layer among other odd jobs. It was as a brick layer that the name Cartola became associated with Angenor. To prevent cement from getting into his hair, he got into the habit of wearing a top hat ("cartola" in Portuguese). A truly gifted songwriter and acoustic guitarist, Cartola was also an impeccable performer of his own songs. He infused a sentiment like no other interpreter could. Even classics that were made famous through some of his interpreters — Francisco Alves, Mário Reis, Silvio Caldas, Carmen Miranda, Beth Carvalho, Marcos Sacramento, Paulinho da Viola and many more — have a special and inimitable feel when heard through Cartola's voice. After all, many critics and musicians alike consider Cartola the greatest sambista of all. Tárik de Souza calls Cartola one of the "patriarchs of the modern samba."
Cartola – Ao Vivo: Seu Último Show Gravado was the fruit of Cartola's last show on December 30, 1978, just two years prior to his death. The show took place at the Ópera Cabaré in São Paulo and was produced by Cartola's first album producer, J.C. Botezelli (known as Pelão). The LP, released in 1991, became a CD in 2000 and is now being reissued by Kuarup. The instrumentation is minimal and absolutely perfect for the gems in the repertoire we hear in this recording. The musicians accompanying Cartola were the members of the Regional do Evandro do Bandolim: Evandro (mandolin), José Pinheiro (7-string guitar), Lúcio França (cavaquinho), Sílvio Modesto and Zequinha (rhythm). Because it was a live recording from the 1970s, there are some very minor imperfections that in no way detract from the magnificent document that this album is. One of the most amazing things is how revered Cartola was, and that is clearly shown in Cartola – Ao Vivo. When he started singing, there is absolute silence in the audience. His voice and phrasing are able to carry you away in the beautiful and touching lyrics we hear. The heart wrenching lyrics in "O Mundo É um Moinho," for example carry the weight of the pain of a man seeing her beloved woman leaving him:
Ouça-me bem, amor
Preste atenção, o mundo é um moinho
Vai triturar teus sonhos, tão mesquinho
Vai reduzir as ilusões a pó
Hear me well, love
Pay attention, the world is a mill
Will crush your dreams, so stingy
Will reduce the illusions to dust
The same soft determination in Cartola's voice carries through in the hit parade of great songs presented in this album. In the time-honored "As Rosas Não Falam," the poetry in his verses is sublime. Upon visiting a rose garden to lament about a lover's reluctance to return, Cartola sings:
Queixo-me às rosas,
Mas que bobagem
As rosas não falam
Simplesmente as rosas exalam
O perfume que roubam de ti, ai
I complain to the roses,
But what nonsense
Roses do not speak
Simply roses exude
The perfume they steal from you, sigh
I could go on and on talking about each track, but that is totally unnecessary. Cartola's music is to be experienced and revered. Here is a rare video of Cartola. In this clip he reunites with his father after 40 years. When he asks his father what he'd like to hear, the answer is "O Mundo É um Moinho."
[youtube http://www.youtube.com/watch?v=L8U1Y9PBfig]
ALBUM INFORMATION
Cartola
Ao Vivo – Seu Último Show Gravado
Kuarup KCD-143 (2000)
Time: 37'03"
Tracks:
All tracks by Cartola, except where indicated.
Alvorada (Carlos Cachaça – Cartola – Hermínio Bello de Carvalho)
O Mundo É um Moinho
Sim (Oswaldo Martins – Cartola)
Acontece
Amor Proibido
As Rosas Não Falam
Verde Que Te Quero Rosa (Dalmo Castelo – Cartola)
Peito Vazio (Élton Medeiros – Cartola)
Alegria
O Inverno do Meu Tempo (Roberto Nascimento – Cartola)
O Sol Nascerá (Élton Medeiros – Cartola)