Gifted Voice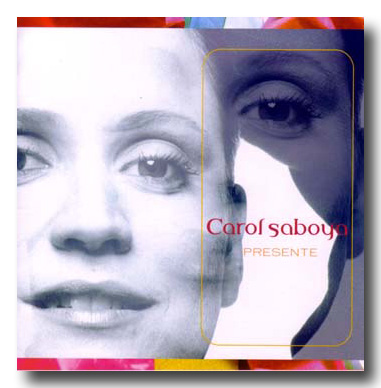 A wonderful mix of MPB and Brazilian pop music is what we get on Carol Saboya's fourth release Presente. After impressing everyone with the duo album dedicated to the music of Jobim (Janelas Abertas with friend of the family, guitarist Nelson Faria), Carol Saboya again delivers a welcome piece of music. Saboya (born in 1975) has never been a stranger to music. Being the daughter of composer, arranger and pianist Antônio Adolfo, she has been exposed to music (bossa, jazz) during her youth. A few years in the United States (1989 – 1991) added to her musical education. As her main influences Carol names Billie Holiday, Ella Fitzgerald and Diane Krall among the North American singers and Elis Regina and Zizi Possi among the Brazilians. It's no compliment for the Festival da Música Brasileira that her participation stayed unnoticed (singing the powerful choro-canção "Imaginária" by Suely Mesquita e Mário Sève, with her father's arrangement).
This time the singer invited Ricardo Silveira to be the musical director. And what a wonderful job he did! The arrangements are the best possible for her beautiful voice. The repertoire was chosen with care. The album's opener is the João Donato/Lysias Ênio composition "Vento no Canavial/Sugar Cane Breeze," delightful swinging and confirming already that this cd can't be bad. Perfect instrumentation with acoustic guitar (Silveira), piano (Luiz Avellar), acoustic bass (André Rodrigues), drums (Renato Calmon) and Armando Marçal on percussion. Saboya's voice sounds delicate on Paulinho Moska's composition "Infinitos Futuros," where the arrangement can only be Ricardo Silveira's, a contrast to Moska's own electronic flavored arrangements.
Silveira co-wrote "Molhados de Sol" with Lysias Ênio; a playful interlude in this cd's repertoire. Marcos Nimrichter is on accordion and gives the song a extra joyful touch. Edgard Scandurra (Ira!) writes impressive ballads. "Flores em Você" is one of them, a hit song that was also used as the opener of one of Brazil's soaps ("O Outro," 1986). Renato Calmon uses his biggest cymbal on this song and proves to be a tasteful drummer with a wonderful sound. "Sem Fundo" is a friendly song written by the wonderful Fred Martins and Marcelo Diniz. We hear Marcos Nimrichter again, but also Jurim Moreira on the drums and Cristóvão Bastos on piano. From Salvador, Batatinha's "Imitação" turns out to be a delightful bossa. A remarkable composer/musician. One of the special guests is Ed Motta. He joins in on his own written wordless "Patinete." His soulful voice sounds remarkably good next to Carol Saboya's bossa timbre. Nice tenor sax by Marcelo Martins. Second guest is Zé Renato on Jorge Ben's "Por Causa de Você, Menina." The arrangement allows a few little instrumental solo's by Silveira (with a Wes Montgomery style solo) and Marcelo Martins on flute. "Mistério do Planeta" from Moraes Moreira/Galvão is a dedication to the Novos Baianos of the 70's. Saboya's voice seems too friendly for this song. Ricardo Silveira decided to underline the lyrics with sharp guitar chords. The highlight on the album is the very delicate bossa "Foi Pouco," another composition by Fred Martins, co-written with Roberto Bozzeti. Beautiful chords by Ricardo Silveira's electric guitar, the brushes of Renato Calmon on the drums and the acoustic bass lines by André Rodrigues. Together with Saboya, they create a perfect rendition. A good way to end this tasteful cd.
ALBUM INFORMATION
Carol Saboya 
Presente 
Universal MP,B 325912005192 (2003)
Time: 53'53"
Tracks:
Vento no Canavial (João Donato – Lysias Ênio)
Infinitos Futuros (Moska)
Molhados de Sol (Ricardo Silveira – Lysias Ênio)
Flores em Você (Edgard Scandurra)
E Agora? (Fátima Guedes)
Sem Fundo (Fred Martins – Marcelo Diniz)
Imitação (Batatinha)
Coração sem Saída (Dori Caymmi – Paulo César Pinheiro)
Patinete (Ed Motta) w/ Ed Motta
Por Causa de Você, Menina (Jorge Ben) w/ Zé Renato
A Mais Bonita (Chico Buarque)
Tão Assim (Cristóvão Bastos – Sérgio Natureza)
Mistério do Planeta (Moraes Moreira – Galvão)
Foi Pouco (Fred Martins – Roberto Bozzeti)