Let Carnaval Begin!
With just barely a week before Carnaval in Brazil, two new CDs are available in the market that will guarantee your celebration is lively. Martinho da Vila's Enredo and Capiba – 25 Anos de Frevo.
Enredo is a collection of sambas that Martinho da Vila wrote through the years to a couple of Rio de Janeiro samba groups (escolas de samba): Aprendizes da Boca do Mato and Unidos de Vila Isabel. Samba-enredo is the Portuguese word for the samba theme that a group performs while parading during Carnaval. The opening track is in fact Martinho's very first samba-enredo, which he wrote for Aprendizes, "Carlos Gomes." As a theme, the samba tells the story of the main character. In this case, the opera composer Carlos Gomes. Based on that theme, the samba group creates outstanding floats telling the story of the honoree. Other samba hits included are "Onde o Brazil Aprendeu a Liberdade," "Machado de Assis" (honoring the life and work of that Brazilian writer) as well as Martinho's latest samba-enredo written for Vila Isabel last year, which won the enredo last year, "A Vila Canta o Brasil: Celeiro do Mundo, Água no Feijão que Chegou Mais Um."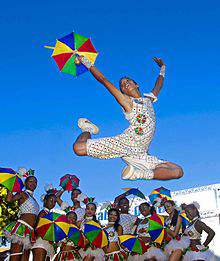 While samba is definitely more popular around the world, frevo is another musical genre very popular in Carnaval, especially in the northeast of Brazil. Frevo has been inscribed on the UNESCO list of intangible cultural heritage of humanity. Its origins were in Recife, Pernambuco, and its biggest star was Lourenço da Fonseca Barbosa, known as Capiba. Capiba – 25 Anos de Frevo is a compilation of 12 tracks (all medleys) featuring Capiba's favorite interpreter, Claudionor Germano accompanied by the Orquestra Nelson Ferreira. This is a good, historical release that includes lots of frevo hits, such as "Morena Cor de Canela," "Casinha Pequenina," "Que É Que Vou Dizer" and many more. It is also a good introduction to frevo. If you decide to delve deeper into frevo — it is an infectious musical genre — there are actually three whole albums with Claudionor Germano and Orquestra Nelson Ferreira just with more music by Capiba: Carnaval de Capiba, Vol. 1: Capiba 25 Anos de Frevo (not the same as the compilation mentioned previously), Carnaval de Capiba, Vol. 2: Carnaval Começa Com C de Capiba and Carnaval de Capiba, Vol. 3: Frevo, Alegria da Gente (1394-1974).
Now, all that is left is for you to pick up your costume and let the celebrations begin!