The Sum of Its Parts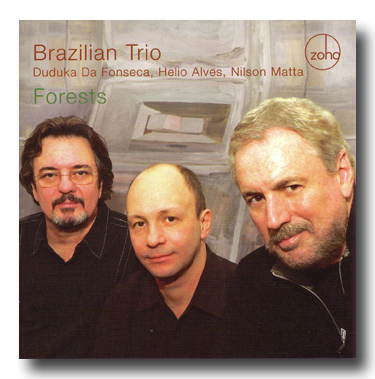 With years of experience in the New York City Brazilian jazz scene and having played with a who's-who list of Brazilian artists, three very talented musicians got together to release Forests, a heavy Brazilian jazz album in the best tradition of piano, bass and drums trio. Individually, each artist follows his own path in the music business. Helio Alves heads his own trio, and Duduka da Fonseca and Nilson Matta are two thirds of Trio da Paz. When together, the Brazilian Trio is captivating, fiery and very in control of the music the trio showcases.
Getting into the Brazilian songbook for this release was an easy task for the trio, who produced this fine album. They used excellent music by stellar names such as Ivan Lins, Hermeto Pascoal, Vitor Assis Brasil and Milton Nascimento. Going one step further, group members also added their composing skills with top-notch numbers from their individual repertoires. The final product is Forests, a compelling release of Brazilian jazz music.
Helio Alves (São Paulo, 1966) is a terrific pianist and well known to many for his own work in his 1998 Trios. Here, right from the start with "Amor," we have the pleasant opportunity to experience Helio's comfort and artistry on the piano. His diversity is a constant in this album, whether he is playing up tempo arrangements or smooth ballads, as in the title track, "Forests." In this particular track, he takes a back seat after the introduction and lets Nilson Matta (São Paulo, 1949) shine brightly in his own composition with the strong presence of Duduka da Fonseca (Rio de Janeiro, 1951) and his vibrant drums. The trio is also electrifying in "Pro Zeca," a jam-packed number that pushes each artist's expertise to new heights.
In some of the more well-known numbers, such as the beautiful "Tarde," we experience the Brazilian Trio in a very intimate setting. I've always been partial to this Nascimento composition and find it one of his best. Hearing it in an all-acoustic version is a breath of fresh air and stunningly beautiful. Duduka's soft brushes are the perfect companion to the Nilson's adaptable bass and Helio's magnificent piano. The other Nascimento song featured here is "Vera Cruz," which closes the album in grand style. With its fast tempo, the track is very fitting to showcase each musician one more time in strong solos. Hermeto Pascoal's "Montreux" is another beautiful example of a ballad. Hermeto's music, often thought of as experimental, is presented here in a more traditional setting and very romantic to say the least. Even Nilson's middle solo is infused with romance to its core.
Considering that these guys have been collaborating with countless artists and also that they each have their own groups, it is a tremendous accomplishment for the Brazilian Trio to come up with an entirely different sound from its individual parts. Starting with a traditional trio formation, the Brazilian Trio built on that solid foundation to give us an album that is unquestionably fresh and gratifying. Forests is lush.
ALBUM INFORMATION
Brazilian Trio
Forests
Zoho Music ZM 200806 (2008)
Time: 62'38"
Tracks:
Tracks:
Amor (Ivan Lins)
Forests (Nilson Matta)
Samba Alegre (Helio Alves)
Montreux (Hermeto Pascoal)
Pro Zeca (Vitor Assis Brasil)
Tarde (Milton Nascimento)
Ubatuba (Helio Alves)
Paraty (Nilson Matta)
Flying Over Rio (Duduka da Fonseca)
Vera Cruz (Milton Nascimento)