Brazilian Popular Music on DVD: A Review
Just as the introduction of the CD revivified the recording industry, expanding the variety of recordings available and making newly available recordings that had been out of print, the introduction of the DVD has brought changes to video. The most important of these changes, at least for those interested in programming from outside the United States, is the fact that DVDs can easily offer subtitles in a variety of languages, so that the same DVD can be marketed to viewers from different markets, whether they speak English, Spanish, or French, which takes in a substantial portion of the world population. Many DVDs produced in the developed world are restricted by zone, so that producers can control the distribution of feature films. Nevertheless, there are many DVDs that can be played in any zone, and fortunately viewers interested in Brazilian video, many Brazilian DVDs fall into this category and can be used in the United States on any player.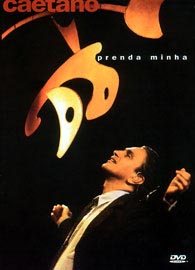 Caetano Veloso
Prenda Minha
Universal 04400618562 (1999)
Directed by Monique Gardenberg
Time: 91′
Titles in Portuguese, Spanish, English and French. Includes "Making of".

Chico Buarque
Chico e as Cidades
BMG Video 743321806839 (2000)
Directed by José Henrique Fonseca
Time: 77′
With Oscar Niemeyer, Tostão, Jamelão, Velha Guarda da Mangueira, and Maria Bethânia
No titles. Includes "Making of".
Brazilian music has become increasingly well-known and popular in the United States in recent years. Caetano Veloso's performance of "Burn It Blue" was nominated for the 2003 Oscar for Best Song, and his fusion in the late sixties of American pop with Brazilian roots and an avant-garde sensibility, known as Tropicália, is beloved with hip young rock fans thirty years later.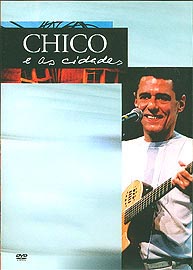 Caetano Veloso and Chico Buarque represent the strand in Brazilian music known as Música Popular Brasileira, or MPB for short. This is music that has its roots in the bossa nova of the early sixties, but has moved on stylistically incorporating elements from many sources, particularly rock from outside Brazil.
Caetano (1942-) is perhaps one of the best representatives of the cultural practice known in Brazil as antropofagia (cannibalism), where Brazilians, rather than slavishly imitating cultural products from outside, "eat" foreign culture, so that it in the process of digestion those products become fully Brazilian. Listeners will hear some familiar elements, but incorporated into a brew that is wholly new. Caetano is a talented composer and lyricist (as a lyricist he was influence by the "concrete" poets of São Paulo), but particularly excels as a performer, using his voice beautifully even at age sixty, and always connecting with the audience, flexible, at easy, changing with each song. The live show recorded (at the Metropolitan, Barra da Tijuca, Rio de Janeiro, Sept. 12-13, 1998) for Prenda Minha combines some older material (the classic "Meditation" by Tom Jobim, as well as some favorites from his own catalog, dating to the seventies (Terra, Eclipse Oculto), with more recent songs, in a production that emphasizes variety of affect, and a self-consciously arty presentation (noticeable in the lighting, and in some of the camera work in the recording). The ensemble incorporates a percussion in the Bahian style (Caetano is from Bahia), which is rare in MPB. Essentially this is the record of a public performance by an important performer at the peak of his powers.
Chico Buarque (1944-) is the most respected lyricist in Brazil, with an amazing command of the language, allusive, full of images, and yet not out of touch with the tradition of the samba. His music may be considered MPB, but it is much closer to the roots, and incorporates little in the way of foreign influences. In contrast to Caetano, Chico was not born to perform – he seems somewhat uncomfortable in front of the public, stiff, ill-at-ease, and his voice is an instrument that he is unable to completely command, with a tone that is not free, and occasional lapses in intonation. The video is a travelogue of the tour for Chico's album and show "As Cidades" (The Cities), combining back-stage and on-stage views of the artist with interviews around Rio de Janeiro. Particularly involving is the joint interview with Chico and Maria Bethânia (Caetano's sister, and a star in her own right). As soon as she begins to sing she begins to simply gleam, and it is impossible not to be captivated.
Tracks (Caetano Veloso):
Minha Voz, Minha Vida
Jorge de Capadócia
Prenda Minha
Meditação
Terra
Eclipse Oculto
Drão
Carolina
Sozinho
Esse Cara
How Beautiful Could a Being Be
Linha do Equador
Doideca
Odara
Não Enche
A Luz de Tieta
Os Passistas
Atrás da Verde-e-Rosa…
Não Enche (Videoclipe)
Livros (Videoclipe)
Mel/Miel (Bonus Track)
Tracks (Chico Buarque):
Paratodos
Homenagem ao Malandro
A Volta do Malandro
Cotidiano
A Ostra e o Velho
Olhos nos Olhos
Olhos nos Olhos (w/ Maria Bethánia)
Piano na Mangueira
Quem te Viu, Quem te Vê
Iracema Voou
Assentamento
Construção
Bancarrota Blues
Feijoada Completa
Sala de Recepção
Capital do Samba
Capital do Samba/Chão de Esmeraldas
Chico Buarque da Mangueira
Ney Matogrosso

Vivo
Universal 04400532099 (2000)
Directed by Ney Matogrosso
Time: 101′
Titles in Portuguese and Spanish
Ney Matogrosso (1941-) is almost unknown outside Brazil, but has been an important artist in Brazilian rock since coming to public view in the group Secos e Molhados in the early seventies. Although he was once considered to be a glam-rocker in Brazil (in a David Bowie-esque vein), genre boundaries in general are more porous there than in the US, and from the beginning Ney has been eclectic in his choice of repertoire, drawing on songs associated with Carmen Miranda or coming from the folk-related songs of the interior (unlike Chico or Caetano, Ney is an interpreter, and not a lyricist or composer). His performances reflect his long involvement with the theater and cinema, and his professional expertise with lighting design. What may well be striking to American viewers is Ney's flamboyantly gay sexuality, with scanty and very feminine costumes, changed several times in the course of a performance, and a body language that is charged. Reinforcing this ambiguity is Ney's exceptional high tenor. The DVD presents a live show with a full band (including such leading musicians as Leandro Braga, keyboards, Marcio Montarroyos, trumpets, Chico Sá, saxes and flute) recorded on December 4, 1999 at the Pal ácio das Artes in Belo Horizonte.
Tracks:
Mulher Barriguda
Com a Boca no Mundo
Miséria no Japão
Vira-Lata de Raça
Novamente
Poema
Olhos de Farol
Mesmo que Seja Eu
Faço de Tudo
A Balada do Cachorro Louco
O Vira
Exagerado
Fazê o Quê ?
Bomba H
O Último Dia
Garota Nacional
A Cara do Brasil
Sangue Latino
Rosa de Hiroshima
Balada do Louco
Homem com H
Pro Dia Nascer Feliz
Metamorfose Ambulante
Poema
Miséria no Japão
Toquinho
Biscoito Fino 260-070-9 (2001)
With Paulinho Nogueira, Chico Buarque, Fiorella Mannoia, Jorge Benjor, Quarteto em Cy, Gilberto Gil, Vinícius de Moraes, Ivan Lins
No titles. Includes scores and lyrics.
Toquinho (1946-) is an artist that is associated with the bossa nova, the music (along with samba) for which Brazil is most well-known in the wider world. Born in 1946, he was too young to be present at the creation, but by the early sixties he was much involved in the bossa nova/MPB scene, working with Chico Buarque, Nara Leão, Sergio Ricardo and others. Most importantly he had a long and very productive partnership with the great poet and lyricist Vinícius de Moraes, for ever associated with the bossa nova (he wrote the lyrics for Girl from Ipanema), from 1969 until the latter's death in 1980. Unlike all the other discs reviewed here this DVD surveys the length and breadth of the musician's career, and all the film and video clips from earlier days are worth treasuring. One gets a sense of the magic of the collaboration with Vinícius – these moments are the highlight of the disc. Toquinho's importance was primarily as an artist working in collaboration with other great artists – his production on his own is less compelling than when he was setting others' lyrics.
Tracks:
Aquarela
Bachianinha
Samba de Orly
O que será que será
Que maravilha
Na boca da noite
Samba para Vinícius
Tarde em Itapõa
Samba da benção
Regra três
A felicidade
Tonga da mironga
Carta ao Tom 74
Escravo da alegria
La voglia la Pazzia
Doce vida
Amor em paz
Caso sério
Hino ao Corinthians
Ao que vai chegar
Até logo companheiro
A casa
O pato
O caderno
Canção para Jade
Criança feliz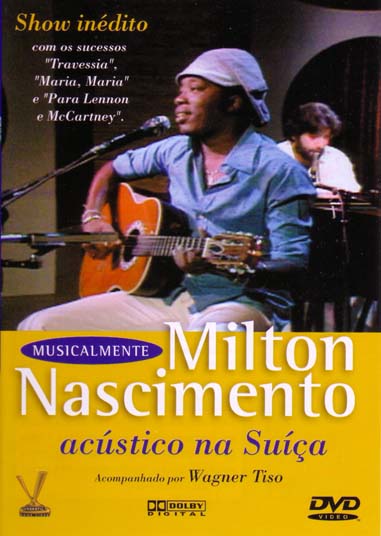 Mílton Nascimento
Acústico na Suíça
Editora Jornal DVDS-001
Accompanied by Wagner Tiso
Time: 60′
Titles in Portuguese
For many years Milton Nascimento (1942-) was the most well-known of the singer-songwriters of MPB outside Brazil, having already recorded his second LP for A&M in Hollywood in 1969. He went on to record a Grammy-winning disc with Wayne Shorter in 1975 (Native Dancer, Columbia), and more discs for A&M would follow. Nascimento was born in Rio de Janeiro, but moved with his family as an infant to Três Pontas, Minas Gerais. As an adolescent he was already making music with Wagner Tiso, his accompanist on this live video made for Swiss television in 1980. Nascimento stands out from MPB and Brazilian pop in general in a number of ways. Most noticeably, he sings in a high range and makes use of a uniquely recognizable falsetto, in contrast to many leading Brazilian singers, who tend to sing low in their range, with a notably spoken, rather than traditionally cantabile, production (the best of example of this would be trendsetter João Gilberto, whose singing would be unthinkable without the microphone). Nascimento's musical style also has little to do with popular genres from Rio de Janeiro or Salvador, two of the most important musical centers, with no reminiscences of either samba or bossa nova, with airier, and less rooted melodies and harmonies, which may have been part of what made his music appealing to new-age sensibilities and jazz musicians seeking new paths in the seventies.
In some ways Nascimento, at least as he is captured here in the TV studio, is more like Chico than Caetano, that is, a songwriter whose performances are less "performerly", less calculated, more naïve, and whose importance is in the beauty and novelty of his songs, with Nascimento's forte being more on the musical end of the lyrics-music continuum. Nascimento accompanies himself on the guitar, but as is often the case, the guitar here is simply a support for the voice, rather than an important voice in its own right (indeed the tuning goes out to a noticeable degree during the course of the performance). A document of an important musician in a more informal time.
Tracks:
Nada Será Como Antes
Travessia
Outubro
Para Lennon e McCartney
Pai Grande
Circo Marimbondo
San Vicente
Maria, Maria
Cravo e Canela
Fazenda
Choro de Mãe
Canção do Sul
Dos Cruces
Adriana Calcanhotto
Público
BMG 74321874949 (2001)
Directed by Jodele Larcher
Time: 60′
Titles in Portuguese. Includes "Making of".
Singer-songwriter Adriana Calcanhotto (1965-) is from a later generation of MPB. She began her career singing in nightspots in her native Porto Alegre (capital of the state of Rio Grande do Sul, southernmost state in Brazil). By the later eighties she had produced a number of shows in Porto Alegre, and finally in 1989 she moved to Rio de Janeiro, where she seems to have become an overnight success, and finally hit the jackpot in 1990, with the release of her first disc, and a song heard in the soundtrack for a novela (a kind of prime-time serial drama)on TV Globo. Her DVD was recorded at the end of a year-long tour. Adriana accompanies herself on guitar in a less-is-more show featuring predominantly her own songs, with two nods to the past (the classic samba "The world didn't come to an end" by Assis Valente, and "Ela é carioca" by Jobim and Vinícius de Moraes). She wryly pokes fun at elder statesmen Caetano with her "Vamos Comer Caetano", accompanied by a pre-recorded CD sampling some of Caetano's recent Bahian musical tics.
Tracks:
E o Mundo Não se Acabou
Mais Feliz
Maresia
Uns Versos
Metade
Devolva-me
Clandestino
Una Mujer
Traduzir-se
Remix Século XX
Inverno
Esquadros
Vamos Comer Caetano
Medo de Amar Nº3
Vambora
Ela é Carioca
Mentiras