Jammin' Up
Ray Moore is no stranger to Brazilian music. Though based in New Orleans, Moore has been involved with Brazilian music for several years. I first met him when I traveled to New Orleans in 1999. Moore and Jô Iazzetti (his partner) were responsible for Carlos Malta's visit to NO at that time. The fact they were producing Malta's performances there should have given me a good idea about the music Moore enjoys playing. Well, with Brasilliance! I know now exactly what an accomplished musicianship Moore is.
Brasilliance! was formed in 1992 and is comprised of top-notch jazz musicians devoted to exploring the musical scene of Brazil. Though the group started as a quartet and went through a variety of formations, the music they performed was authentically Brazilian, ranging from Bossa Nova to frevo. That changed in 2000, when Moore met Hermeto Pascoal. The encounter led to a deeper friendship between Pascoal and Moore, culminating with a visit to Pascoal's home in Brazil. At that time, Pascoal gave Moore "Rio Mississippi," which is one of the six tracks penned by Pascoal here in Minha Jóia. For this recording, Brasilliance! is Ray Moore on reeds (also responsible for the arrangements), Mike Lemmler on piano and keyboards, Tom Sciple on electric bass, Wayne Maureau on drums, Rick Trolsen on trombone and Eric Lucero on trumpet. The repertoire in the CD is all Brazilian with the exception of "My Foolish Heart." Moore contributed two original compositions, including the title track, "Minha Jóia," which is dedicated to "the woman behind the man," Jô Iazzetti.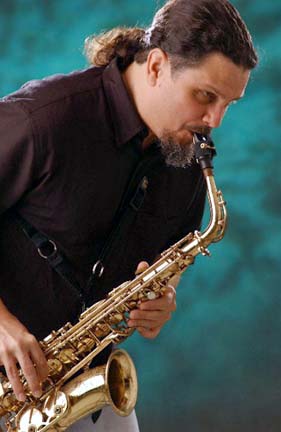 Minha Jóia opens with Pascoal's standard "Bebê." Moore's soft flute solos are captivating in this lullaby. The group is smooth and contained in this opener. However, just as early as the second track plays on, we see Brasilliance! more at ease and jamming up a storm. Taking things back down just a notch, Moore's own "Minas" brings a flavor of the land-locked Brazilian central state. Giving continuation to the Minas Gerais mini-tribute, Mílton Nascimento's "Canção do Sal" features a nice trombone solo by Trolsen before Moore's sax takes over in good swinging style. Then we hear the beautiful and sensual Bossa-Nova flavored "Minha Jóia." As an extra bonus, though not recorded, the liner notes feature the lyrics written by Moore for this tune. What a love song this is! Piano and sax take turns in some remarkable solos in this tune. Though not a Brazilian song originally, "My Foolish Heart" receives a nice Bossa Nova treatment in this rendition thanks to Maureau's nice drum accompaniment. The arrangement is straightforward and delivered head on. The album then picks up more energy with the four remaining Pascoal songs. Whereas "14 September" is bouncy with its forró beat and accordion accompaniment, "Tacho" is more mystical and gives Moore a chance to showcase his fine work on the wood flute. "16 April" is the moment for Sciple's rich bass solos. Finally, the album closes with Pascoal's gift to the group, "Rio Mississippi."
In addition to Brasilliance!, Ray Moore has also recorded Paralelepípedo, an album of non-Brazilian music with Brazilian stars forming the band RiOrleans (Dário Galante on piano, Tony Botelho on bass and Pascoal Meirelles on drums). You can read more about Minha Jóia hereand in Ray Moore's home page.
ALBUM INFORMATION
Brasilliance!
Minha Jóia 
Independent (2003)
Time: 56'56"
Tracks:
Bebê (Hermeto Pascoal)
21 May (Hermeto Pascoal)
Minas (Ray Moore)
Canção Do Sal (Mílton Nascimento)
Minha Jóia (Ray Moore)
My Foolish Heart (Victor Young – Ned Washington)
14 September (Hermeto Pascoal)
Tacho (Hermeto Pascoal)
16 April (Hermeto Pascoal)
Rio Mississippi (Hermeto Pascoal)