An Interesting Meeting
When pianist Benjamim Taubkin plays the first notes on this album, it's clear that we can expect a set of lyrical and inspired music. With a warm feeling he starts wandering around through the chords of the Miles Davis classic "Blue in Green." Percussionist Adriano Adewale quickly joins in, adding surprising accents that give the music a Brazilian touch and inspire the pianist to also drift away to his own Brazil. Thus they add a color to the jazz standard and that color can only be yellow, of course! "Blue in Green" appeared on the legendary Miles Davis album Kind of Blue (1959).    Although there is some doubt about who wrote the jazz standard (was Miles Davis in his right to claim the composition or did pianist Bill Evans write the scores?), it's without question that the work-out which resulted in "Blue in Green in Yellow" was born in the minds of Benjamim Taubkin and Adriano Adewale!
The two musicians met in 2009 during a solo performance of Benjamim Taubkin (1956, São Paulo) at the Vortex Jazz Club in North London, England. Percussionist Adriano Adewale, who moved from São Paulo to London in 2000,  was happy to participate as a guest during the concert of this pianist from his home country. It worked very well so they quickly decided to do a recording together at the very same venue in November 2010. It was one of the occasions where it happens that two musicians connect together in a spontaneous manner. The music was created on the spot; suggestions and ideas were picked up in a most natural way by both instrumentalists.
The second track on the album is "Samba." Of course the title needs no explanation, were it not that it sounds as if the samba rhythm is tackled a few times during the performance. It's a true dialogue between the two men on stage. "Landscapes" is built on impressions that Benjamim Taubkin gathered in Ireland. On "Berimbau" Adriano Adewale responds on the single-string bow to the piano playing. Here we are reminded about the perfect recording quality of the music. The berimbau sounds as if it is played right before your nose.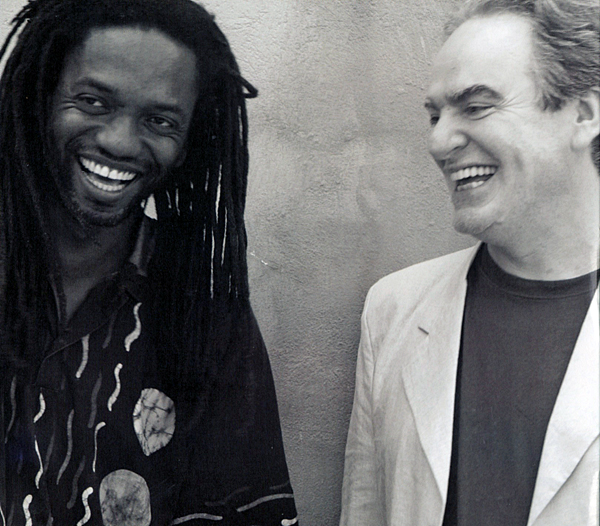 Nothing to complain about with the Vortex Sessions? No, it's a beautiful piece of music. Oh well yes, maybe there's something: it only lasts for a short 37 minutes. But as a compensation, that half an hour is of high quality!
Both artists have their own place in cyberspace: Benjamim Taubkin and Adriano Adewale.
ALBUM INFORMATION
Benjamim Taubkin + Adriano Adewale
The Vortex Sessions
Adventure Music AM 1081 2 (2013)
Total time: 36'47"
Tracks:
Blue in Green in Yellow (Taubkin – Adewale)
Samba (Taubkin – Adewale)
Landscapes – Impressions of Ireland (Taubkin)
Berimbau (Taubkin – Adewale)