Veritas Verocai
Just when you think that Bossa Nova has covered it all or that it has become stale, someone comes along to shake things up with a delectable and irresistible Bossa Nova album. Saudade Demais fits the bill brilliantly!
Arthur Verocai (Rio de Janeiro, 1945) lived Bossa Nova at its prime. He studied guitar with Léo Soares, Darci Villaverde, Nair Barbosa da Silva and Roberto Menescal. He also took piano lessons with Vilma Graça before embarking on his musical journey. He is a prolific composer that has been writing gorgeous melodies since the 1960s. He took part in several music festivals in Brazil, including the 1968 International Song Festival — with "Saudade Demais," included here — and again in the 1969 International Song Festival, among others. He has performed, arranged and produced for a number of Brazilian stars before starting his solo career. Among the artists he has worked with, we find Marlene, Elizeth Cardoso, Ivan Lins and Gal Costa just to name a few.
Saudade Demais is an open declaration of love for Rio de Janeiro and Bossa Nova. The lyrics in most of these songs paint a musical scene of that marvelous city. With that inspiration, nothing goes wrong. The guest musicians in the album augment Verocai's amazing guitar playing and exceptional songwriting skills. Here we find Raul de Souza (trombone), Marcio Montarroyos (trumpet), Toninho Horta (acoustic guitar), Robertinho Silva (drums), Cristovão Bastos (piano), Luiz Alves (bass) and the wonderful voice of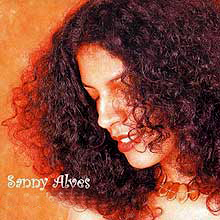 Sanny Alves singing the fascinating lyrics in the album. Alves is a great performer who feels quite at ease with Verocai's music. What a voice!
Several songs in Saudade Demais talk about Rio de Janeiro neighborhoods and landscape. Leblon, Arpoador, Lagoa Rodrigo de Freitas, Copacabana as well as the impressive Bay of Guanabara help pay this homage in songs such as "Verão à Toa," "Esse Rio" and "Guanabara." When not writing about Rio, Verocai has beautiful women and love as his inspiration. "Isabel Tchau," "Sem Thereza" and "Seja Feliz" have everything about love found and lost. Verocai has the ability to make sambas and ballads with an entrancing charm that will hold your attention from beginning to end. Even when the song is about Carnaval, as in "Madrugada," that longing feeling — saudade — is present. Completing a good vocal repertoire, we have "Balada 45," "Posto 6," "Saudade Demais" and "Nós Cariocas" with Verocai's guitar solos as the center. Verocai seems to be a master in setting the mood of a song with his guitar solo and accompaniment. He is sometimes so mellow, as in "Balada 45," that you can hear each note lingering way after they are played. Talent abounds in Verocai's music. Saudade Demais is, in one word, dreamy.
To learn more about Arthur Verocai, please visit his home page.
ALBUM INFORMATION
Arthur Verocai
Saudade Demais
Independent 011140600001 (2002)
Time: 57'34"
Tracks:
Verão à Toa (Arthur Verocai – João Luiz)
Isabel Tchau (Arthur Verocai)
Madrugada (Arthur Verocai – Paulinho Tapajós)
Sem Thereza (Arthur Verocai)
Balada 45 (Arthur Verocai)
Seja Feliz (Arthur Verocai – João Luiz)
Posto 6 (Arthur Verocai)
Esse Rio (Arthur Verocai – Sérgio de Paula)
Saudade Demais (Arthur Verocai – Paulinho Tapajós)
Guanabara (Arthur Verocai – Aldir Blanc)
Nós Cariocas (Arthur Verocai – Cláudio Guimarães)
Um Novo Rumo (Arthur Verocai – Geraldo Flach)