Serious fun!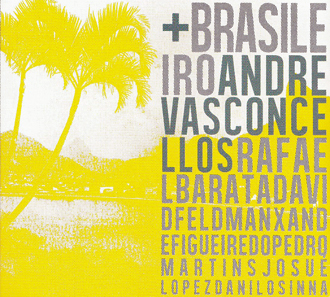 This is bassist André Vasconcellos' fourth album. 2, also reviewed on our site, easily gained international success. The bass style of André Vasconcellos (Brasília, 1979) attracts many jazz fans and critics. After 2 there was a live album in 2012. Now we're pleased to hear + Brasileiro, on which the bassist is surrounded by a bunch of musicians who are all among the best and most promising in their field. On piano is David Feldman, who studied with the great Luiz Eça (1936-1992). The influence of Eça is quite noticeable in Feldman's playing on this album. On drums is the promising rising star called Rafael Barata; he seems to be everywhere these days. On four tracks drummer Xande Figueiredo is in charge. We already know him from his work on the album Amicizia from the jazz group 8VB. Guitarist is Pedro Martins, whose striking album Dreaming High was recently reviewed on our website. Then there are the talented saxophonists Josué Lopez (Rio, 1980) on tenor and Danilo Sinna (Rio, 1987) on the alto. They all mean serious business on André's recording date! Their eagerness is heartwarming. It's how good friends make good music, with fun and dedication. The compositions of André Vasconcellos give space for each musician to show why they're so in demand. They don't shy away from complicated harmonic and rhythmic challenges, like in "Meio Sem Fim" and "Um Girassol da Cor do Seu Cabelo."
The bassist is also know from his work with Hamilton de Holanda. Hamilton is guest on "Tempo de Partir." "Sem Adeus" features another member of the Hamilton de Holanda group: Gabriel Rossi on harmonica. Third guest is flutist Eduardo Neves on the sunny "Bolero."
On + Brasileiro André Vasconcellos gives us the confirmation that jazz is alive in Brazil. Jazz with an unmistakably Brazilian touch. The bassist/composer dedicates the music on this album to the musicians and composers from Brazil's artistic fruitfully 1970s and 1980s. A mission that's completed in a more than fantastic way.
Please visit André Vasconcellos to learn more about the artist and his music.
ALBUM INFORMATION
André Vasconcellos Sexteto
+ Brasileiro
Brasilianos BRP012 (2013)
Time: 60'39"
Tracks:
All compositions by André Vasconcellos, except where noted.
Samba da Esquina
Meio Sem Fim
Tempo de Partir – w/ Hamilton de Holanda
Sem Adeus – w/ Gabriel Grossi
Bolero – w/ Eduardo Neves
Um Girassol da Cor do Seu Cabelo (Lô Borges – Marcio Borges)
98
Sempre Assim
Estrada Real