A Bountiful Garden!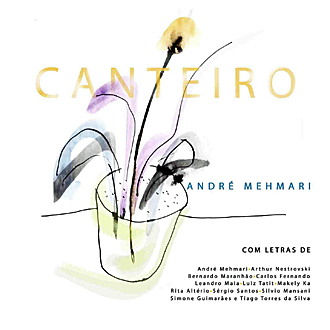 Here is one artist who is comfortable in any genre. André Mehmari has recorded with choro mandolin master Hamilton de Holanda (check out their latest collaboration, GismontiPascoal), jazz clarinetist Gabriele Mirabassi (the beautiful Miramari) and partnered with vocalist Ná Ozzetti for an inspired piano/voice release (Piano e Voz).
Keeping in line with those releases, I feature here Canteiro. This is André's incursion in songwriting. It is an album of songs featuring lyrics by André himself, Arthur Nestrovski, Bernardo Maranhão, Carlos Fernando, Leandro Maia, Luiz Tatit, Makely Ka, Rita Altério, Sérgio Santos, Silvio Mansani, Simone Guimarães and Tiago Torres da Silva.
When an artist is such a well-recognized instrumentalist, how does he transition into songwriting and guarantees the same quality of his music transcending vocal challenges? One possible answer is to line up a roster of lyricists that understand his music and can write equally compelling lyrics for complex melodies. In Canteiro André Mehmari did just that. Not only did he venture very well into songwriting and singing, but he also assembled superb lyricists to add to the beauty of his music. The lyrics complement the music in a perfect fit. There are 10 different lyricists represented in the album, and they cover 29 songs being performed by 15 singers and 26 instrumentalists. It is an impressive feat on this 2-CD beautiful package with nearly two hours of music! Canteiro is undoubtedly an album of superlatives.
The basic trio performing in most tracks are Neymar Dias on bass and Sérgio Reze on drums, besides André's piano. However, the musical universe a listener will experience in Canteiro will range from voice and guitar ("Sal, Saudade"), voice and piano ("Modular Paixões"), voice, piano and guitar ("Vento Bom") to quartets and a full orchestra, as is the case of the "Brilha o Carnaval." André Mehmari was in full control of all levels of producing, arranging, recording, mixing and mastering of Canteiro. In the middle of it all, he clearly did not neglect his musical participation. Just listen to "Valsa Russa," for example. Except for Leandro Maia's voice, all instruments you hear in the track are André's playing (piano, viola, violin, flute, symphonic percussion, etc.).
In this electronic press kit (EPK), André Mehmari talks about Canteiro. It is definitely worth watching this video to get a taste of Canteiro. The video is in Portuguese with English sub-titles.
ALBUM INFORMATION
André Mehmari
Canteiro
Estúdio Monteverdi EM010 (2011)
Time: CD1 64'49" and CD2 52'16"
Tracks:
CD 1
1. À Beira da Canção (André Mehmari – Carlos Fernando)
2. Apenas o Mar (André Mehmari – Tiago Torres da Silva) – w/ Mônica Salmaso
3. Baião de Reza (André Mehmari – Sérgio Santos) – w/ Sérgio Santos
4. O Cânticos dos Quânticos (André Mehmari – Bernardo Maranhão)
5. Clara (André Mehmari – Silvio Mansani) – w/ Silvio Mansani
6. Cruce (André Mehmari – Bernardo Maranhão) – w/ Carlos Aguirre & André Mehmari
7. Meia Lágrima (André Mehmari – Tiago Torres da Silva) – w/ Antonio Zambujo & Hamilton de Holanda
8. Desalvorada (André Mehmari – Bernardo Maranhão) – w/ Sérgio Santos
9. Guardar (André Mehmari – Makely Ka) – w/ Mateus Sartori
10. Amor da Terra (André Mehmari – Bernardo Maranhão) – w/ Cláudio Nucci
11. Insisto (André Mehmari – Carlos Fernando) – w/ Luciana Alves
12. Pra Amada Imortal (André Mehmari – Bernardo Maranhão)
13. Ida e Volta (André Mehmari – Rita Altério) – w/ Tiago Pinheiro & André Mehmari
14. Ninguém Compreende (André Mehmari – Simone Guimarães) – w/ Simone Guimarães & André Mehmari
15. Velha Inquietude (André Mehmari)
16. Brilha o Carnaval (André Mehmari – Luiz Tatit) – w/ Tiago Pinheiro
CD 2
1. Festa dos Pássaros (André Mehmari – Bernardo Maranhão) – w/ Ná Ozzetti
2. Viagem de Verão (André Mehmari – Arthur Nestrovski) (On a theme by Franz Schubert) – w/ Jussara Silveira
3. Valsa Russa (André Mehmari) – w/ Leandro Maia
4. Sal – Saudade (André Mehmari – Leandro Maia)
5. Tentar Dormir (André Mehmari – Sérgio Santos) – w/ Luiz Tatit
6. Última Valsa (André Mehmari – Sérgio Santos) – w/ Sérgio Santos
7. Florbela (André Mehmari – Silvio Mansani) – w/ Silvio Mansani
8. Luzidia (André Mehmari – Leandro Maia) – w/ Leandro Maia
9. Canteiro (André Mehmari) (Vocalise)
10. À Beira da Canção (André Mehmari) (Instrumental version)
11. Modular Paixões (André Mehmari) – w/ Mônica Salmaso
12. Insisto (André Mehmari – Carlos Fernando) (Instrumental version) – w/ Chico Pinheiro
13. Vento Bom (André Mehmari) – w/ Luciana Alves & Chico Pinheiro
14. Brilha o Carnaval (Playback) (André Mehmari – Luiz Tatit)