Ten Beautifully Performed Songs
The year 2008 has been brightened up with a striking amount of good cds. Dez Canções deserves to be high on that list. Adriana Maciel delivers a timeless piece of work that's characterized by very good taste and a dedicated talent. The Rio-based (Brasilia born, 1966) singer found a perfect balance between her warm disarming voice and the (mostly acoustic) instrumentation. On her previous three albums she already showed a tasteful approach, but on this record everything comes together in the best possible way. The accompanying musicians are perfectly chosen; they deliver a great job to embrace the voice of the vocalist.
As the title of the CD suggests, the repertoire covers ten songs (Dez Canções). And that's what we get: ten gorgeous pieces of music. The album opens with a composition by one of Adriana's favourite composers, the amazing singer, writer and composer Vitor Ramil. "Cão (Like a Dog)" starts off beautiful with the acoustic guitar from guest musician Celso Fonseca, playing his trademark bossa lines. Adriana Maciel joins in with her soft voice, soon followed by co-producer Chico Neves on bass and again a little later percussionist Marcelo Costa and the other co-producer guitarist Bernardo Bosísio. It a perfect kick off for a delightful half an hour of music. Seu Jorge provided a David Bowie composition with lyrics (Vida em Marte (Life on Mars)). Adriana is only accompanied by Bosísio on the acoustic guitar and Chico Neves on melotron, turning the song into a friendly samba-rock. The following two tracks are absolute price winners for this album. We hear a dramatic beautiful rendition of another Vitor Ramil composition, the ballad "Perto de Teu Coração".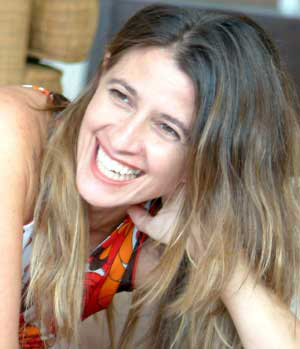 Here the well chosen instrumentation is in perfect harmony with the voice and the composition. The chosen musicians are the best on their instruments and dedicate their skills to the song. It's just amazing how good the harp of Cristina Braga sounds together with the Weissenborn laptop steel guitar from Christiaan Oyens during his solo. Alberto Continentino gives back-up on the acoustic bass together with Bernardo Bosísio (acoustic guitar) and with subtle percussion by Marcelo Costa. The following "Ficar" (by Celso Fonseca) has that same perfectionism. Here it's the charango from Lui Coimbra that sets the mood, rhythmically supported by Marcos Suzano with perfect chosen percussion instruments. For the second voice Adriana invited the wonderful Cecília Spyer, who, as always, leaves her mark on the vocal presentation. "Cadê Você" highlights the acoustic piano from Sacha Amback, another musician who has the power to add something personal to a song without touching the sentiment. Alberto Continentino does great things on the acoustic bass on the George Israel/Cris Braun composition, "Tardes Vazias." We also hear Christiaan Oyens again on this track. Cristina Braga (harp) and Lui Coimbra (charango) reappear on lazy sounding "Certão" (Moreno Veloso and Caetano Veloso). The lovely "O Mundo ao Redor" was written by Adriana in partnership with Billy Brandão, who accompanies on guitars (with Dunga on bass and Marcelo Costa, percussion). The album closes with "Fórmica Blues" on which Sacha Amback does a superb job on the acoustic piano, at moments playing staccato, then following the melody line in a minimalist way starting with his left hand, continuing on the higher notes with his right hand. His performance on this song invites for multiple listening. It's another great moment on this remarkable album. The overall performance of Adriana Maciel on the album is nothing short from perfect.
We had to wait four years for the follow-up of Poeira Leve but it was worth it; we're pleased with a result that is smashing. I'm ready to wait for another four years for an album as good as this one, although I hope it won't take that long…
ALBUM INFORMATION
Adriana Maciel
Dez Canções
Navitrola EMI 242620 2 (2008)
Time: 33'59"
Tracks:
Cão (Like a Dog) (Vitor Ramil)
Vida em Marte (David Bowie (music) – Seu Jorge (lyrics)
Perto de Teu Coração Selvagem (Vitor Ramil)
Ficar (Celso Fonseca)
Cadê Você (Vitor Ramil)
Tardes Vazios (George Israel – Cris Braun)
Certão (Caetano Veloso – Moreno Veloso)
Copo Vazío (Gilberto Gil)
O Mundo ao Redor (Adriana Maciel – Billy Brandão)
Fórmica Blues (Vitor Ramil – Luciano Mello)