2003 Tim Awards of Brazilian Music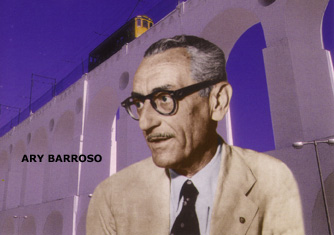 The newly established Prêmio Tim de Música Brasileira had its first awards given out this past June in a classy and yet unusual ceremony at the Teatro Municipal in Rio de Janeiro. The awards were created in hopes to replace the defunct Prêmio Sharp. (Tim is an Italian telephone company operating in Brazil.)
Instead of boring you with the selection process, let me just say that the jury was composed of 21 music professionals appointed by Brazil's Minister of Culture, singer/songwriter Gilberto Gil, along with musicians Rita Lee, Paulo Moura, João Bosco and a few journalists. Among the several categories identified for the first Prêmio Tim, there were the obvious awards for MPB, samba, pop/rock, regional and instrumental, as well as special awards for best new singer, best song, foreign language album and others. The awards show itself celebrated the life and music of Ary Barroso, who would have been 100 years old in 2003. The show was taped and broadcast by Globo this past July.
If you are used to traditional awards show, you would not recognize Prêmio Tim. The first big difference is that the focus of the show was Ary Barroso and not the award recipients. In fact, when the awards were announced on stage, the winners came up to receive the prize, but they were not given any time to thank whoever they wanted. It was just that brief. No long speeches, nothing. Backstage, Globo chatted with some of the winners and allowed them to say a few words, but all very brief. This was unusual, most people would say, but the good side of it is that the music of Ary Barroso received more emphasis. Arrangements were created by Wagner Tiso, and he was accompanied by a small orchestra that included musicians such as Lula Galvão (guitar) and Jorge Helder (bass) among several others. The roster of special guests singing Ary Barroso was as brilliant as the award recipients themselves. Mostly all performers sang in duets, but unfortunately the performances seemed at times unrehearsed and poorly done.
The show's MC was actor André Valli, who used his uncanny resemblance to Ary Barroso to bring back the radio era as he introduced the presenters and singers of the evening. The first performance was guitar wonder Yamandú Costa performing "Aquarela do Brasil" with Wagner Tiso on piano. Those familiar with Costa's style can imagine how energetic his performance was, even though not very precise at times. The next number, "Pra Machucar Meu Coração," brought together for the first time two exceptional singers, each one in his own style. Though both Paulinho da Viola and Ney Matogrosso sang beautifully, Matogrosso would at times look at the floor, where the words to the song were. That was a little distracting. We are then treated to one of the best performances of the evening. João Bosco sang "Rio de Janeiro (Isto É o Meu Brasil)." There's only one word to describe his rendition: superb! After that, a big surprise came with the very convincing performance of Chitãozinho & Xororó singing "No Rancho Fundo." Having a good time and totally at ease on stage, Alcione & Mart'nália traded playful moments in "É Luxo Só." Elza Soares did "Grand Monde Crioléu" after an odd introduction by André Valli imitating Barroso's sometimes dry and aggressive sense of humor . Unfortunately, Zélia Duncan was not very lucky in her duet with Luiz Melodia. They sang "Na Batucada da Vida." Duncan was doing a fine job, but was seriously compromised with the poor performance by Melodia. He was reading the words on the floor and basically sang looking directly down the whole time. Even doing so and with the words printed for him, he still missed one verse of "Na Batucada da Vida." I thought that was very disrespectful to the audience and Ary Barroso himself. In closing the show, Stella Miranda and Monobloco sang a medley with "Os Quindins de Iaiá / Eu Dei / Na Baixa do Sapateiro / Aquarela do Brasil." She was dressed up in full Carmen Miranda attire. She was full of energy and appropriate mannerisms. It could have a been a great finale mixing music and soccer (the stage had two enormous soccer balls), but her singing was off key and flat several times.
Throughout these various performances, awards were announced. These were the winners of the 2003 Prêmio Tim da Música Brasileira:
MPB
Album: Pietá, Milton Nascimento
Group: Tribalistas
Male singer: Milton Nascimento
Female singer: Nana Caymmi
POPULAR SONG
Album: Cada Vez Melhor, Jamelão
Duo: Chitãozinho & Xororó
Group: Communion
Male singer: Roberto Carlos
Female singer: Deborah Blando
SPECIAL AWARDS
Visual project: Imagens Brasileiras, Visualitá Criação
New singer: Teresa Cristina
Arranger: Mundo Verde Esperança, Hermeto Pascoal
Song: "Deixa a Vida Me Levar" (Serginho Meriti – Eri Do Cais)
Foreign language album: Kaya N´Gan Daya, Gilberto Gil
Soundtrack: Cidade de Deus, Antônio Pinto & Ed Cortês
Erudite: Imagens Brasileiras, Orquestra de Câmara Solistas de Londrina
Children's album: Contos, Cantos e Acalantos, José Mauro Brant
Special project: Songbook Braguinha
Electronic: Suba: Tributo, various artistas
POP/ROCK
Album: Acústico MTV, Kid Abelha
Group: Nação Zumbi
Male singer: Luiz Melodia
Female singer: Cássia Eller
REGIONAL
Album: Chegando de Mansinho, Dominguinhos
Duo: Zé Mulato & Cassiano
Group: Cordel Do Fogo Encantado
Male singer: Alceu Valença
Female singer: Elba Ramalho
SAMBA
Album: Deixa a Vida Me Levar, Zeca Pagodinho
Group: Fundo de Quintal
Male singer: Zeca Pagodinho
Female singer: Alcione
INSTRUMENTAL
Album: Duo, Cesar Camargo Mariano & Romero Lubambo
Soloist: Paulo Moura
Group: Hermeto Pascoal & Grupo